Solid State Drives (SSDs) are faster, lighter, consume far less power, and have no mechanical or moving parts, which makes them a popular choice for portable and home computing. Unlike hard drives, SSDs are more stable and less likely to fail than the traditional drives. However, SSDs aren't foolproof and have an expected lifespan of 5–10 years.
But most SSDs tend to fail or corrupt before their expected life due to logical and physical errors. Thus, you must be prepared with a backup and recovery solution to tackle the worst-case scenarios such as data loss.
Before heading to the warning signs of dying SSDs, let's quickly look at how an SSD works and how its life is affected with usage.
How SSDs Work?
In a nutshell, SSD uses flash memory (NAND Flash) which is similar to RAM. However, unlike RAM, the data on SSD remains even if you shut down the system or disconnect it from the PC. The SSDs store data in electrical cell grids, which are divided into sections known as 'Pages'—where the data is stored. Multiple pages when clubbed form a 'Memory Block'. In NTFS, the maximum size of a Memory block is 4KB.
Why SSDs Fail?
An SSD can fail due to several hardware and software issues.
Each time you write on your SSD, the cells—where data is being stored—are degraded. Therefore, you can write a finite number of times before the cell dies completely.
several electronic components such as a controller, a Host interface, and a few more, depending on the SSD class.
These components work together to keep the SSD alive and usable. Failure or malfunction of any component can lead to SSD failure, way before its actual lifespan.
Then there are logical issues with SSDs such as drive corruption. Virus, malware infections, bad sectors, and corrupt data in SSD can lead the pages to fail and create bad blocks, which can cause drive corruption and failure.
Unlike HDD, data retrieval from a dead SSD is nearly impossible with current technical approach and tools. Therefore, it's important to know when your SSD is reaching its end. This helps you take appropriate measures to safeguard the data and prevent permanent data loss situation.
Dealing with the Warning Signs of a Dying SSD
Since there are no mechanical parts, you need to entirely depend on the software interface of the SSD to detect the signs of wear and tear. The following are common warning signs of a dying SSD:
1. File System corruption
When your Windows system throws a notification or error message to repair the File system, that means something is seriously wrong with your system or the SSD itself. Sometimes, it could be a false positive by your system after an abrupt system shutdown or crash.
However, ignoring the error could be disastrous for your data. Therefore, try to find if the issue is with the system or the SSD. And use a data recovery tool to restore data from such SSD—when data or drive becomes inaccessible.
2. Bad Blocks
Bad Blocks in SSD are similar to bad sectors/blocks in HDD. You can neither read nor write data to a bad block or sector. Therefore, the effect of bad blocks on SSD can be severe as we mentioned earlier. Your SSD could get corrupt or may fail due to bad blocks, leading to permanent data loss.
Use a data recovery software such as Stellar Data Recovery to scan your SSD for bad blocks and then, if necessary, clone SSD using the inbuilt 'Drive Monitor' utility. Further, if the SSD gets corrupt due to bad blocks, run SSD drive recovery scan by using Stellar data Recovery and restore the data.
3. System Crash
OS Crash during boot or while using the system indicates a potential SSD problem or OS file corruption. However, if your system successfully boots after a few reboots, it's a clear sign of a dying SSD. Act immediately!
4. Read-Only
In rare cases, when an SSD starts switching to Read-Only mode, it's better to back up the SSD data immediately. The error indicates either drive corruption or file system error, both of which can cause permanent data loss if the necessary backup and recovery steps are not taken promptly.
A good thing about Read-Only is that you can still access and backup the data.
5. Read/Write Operation
When a simple file copying on your SSD fails or results in error message, consider it a warning sign. A sign that indicates something is wrong with your SSD. It's usually caused by the bad blocks; therefore, do check SMART data of your SSD to ensure disk health status. If required, replace the SSD.
How to Secure Data from a Dying SSD
When an SSD begins to throw errors and shows the above-listed symptoms, immediately backup your data. In case, the data is lost or the SSD goes corrupt, use the following steps for SSD drive recovery:
Download, install and run Stellar Data Recovery software

Choose 'All Data' and click 'Next.'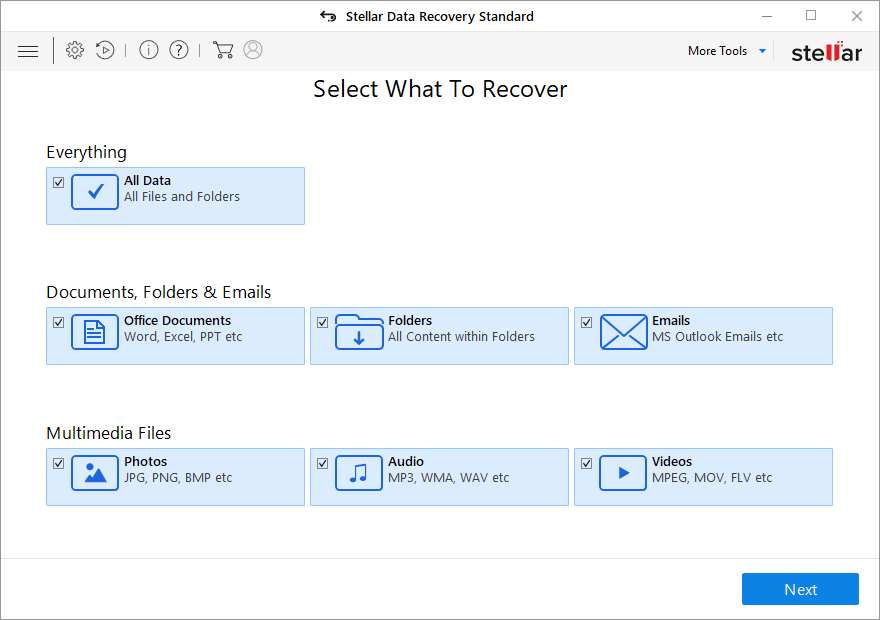 Select the SSD drive under connected drive and click 'Scan'. If SSD has two or more partitions, select one at a time
Note: Sometimes a partition or SSD volume is not visible under Connected Drive lists. This usually indicates severe drive corruption. However, you can still restore your data with 'Can't Find Drive' option in the software
Select 'Can't Find Drive' if the partition is not visible and click 'Scan.'
Select the SSD drive name from the 'Select Drive' list and click 'Search.'
The found partitions are listed under 'Partitions Found' list box. In case the desired partition isn't visible, click 'Deep Scan' below 'Partitions Found' list box
Select the SSD partition and click 'Scan.'
After the scan, if the desired files and folders are not found, click 'Click here' link at the bottom of the software screen to begin 'Deep Scan.'
Deep Scan thoroughly scans each sector on the drive for data based on file signatures and facilitates RAW recovery.
Select the file you wish to recover. You can also preview the recoverable data before saving it.
After file selection, click 'Recover' and then click 'Browse' when Recover pop up box appears
Choose a save location and then click 'Start Saving.'
After a while, your data will be saved at your desired location. You can then get a new SSD and move your data to start using the drive or the system as earlier.
Conclusion
Data from a dead SSD is nearly impossible to revive—especially when the SSD fails due to the controller or any other SSD component failure. Also, logical issues in an SSD can lead to drive corruption and failure. Therefore, it's crucial for a user to understand the signs of SSD failure. This helps users to take appropriate measures towards data protection before the SSD fails or goes corrupt.
Fortunately, data from a corrupt SSD can be recovered with the help of a data recovery software such as Stellar Data Recovery—the one we mentioned in the post. Additionally, the software can also monitor and update your SSD health status, performance, and temperature along with SMART disk attributes.
Tech Savvy, Enthusiast, Graphic Designer (Aspiring WEBDEV), Samsung/Pixel Lover, Occasional Blogger – Business -Family Man… Can help on Tech-related issue because is a passion to me