As bitcoin is a digital asset, it can be very un-intuitive to store safely. Historically many people have lost their coins but with proper understanding the risks can be eliminated. If your bitcoins do end up lost or stolen then there's almost certainly nothing that can be done to get them back.
tl;dr The best way to store bitcoin is to either use a hardware wallet, a multisignature wallet or a cold storage wallet. Have your wallet create a seed phrase, write it down on paper and store it in a safe place (or several safe places, as backups). Ideally the wallet should be backed by your own full node.
Introduction
Storage of bitcoin can be broken down in a few independent goals:
Protection against accidental loss
Verification that the bitcoins are genuine
Privacy and protection against spying
Protection against theft
Easy access for spending or moving bitcoins
The art and science of storing bitcoins is about keeping your private keys safe, yet remaining easily available to you when you want to make a transaction. It also requires verifying that you received real bitcoins, and stopping an adversary from spying on you.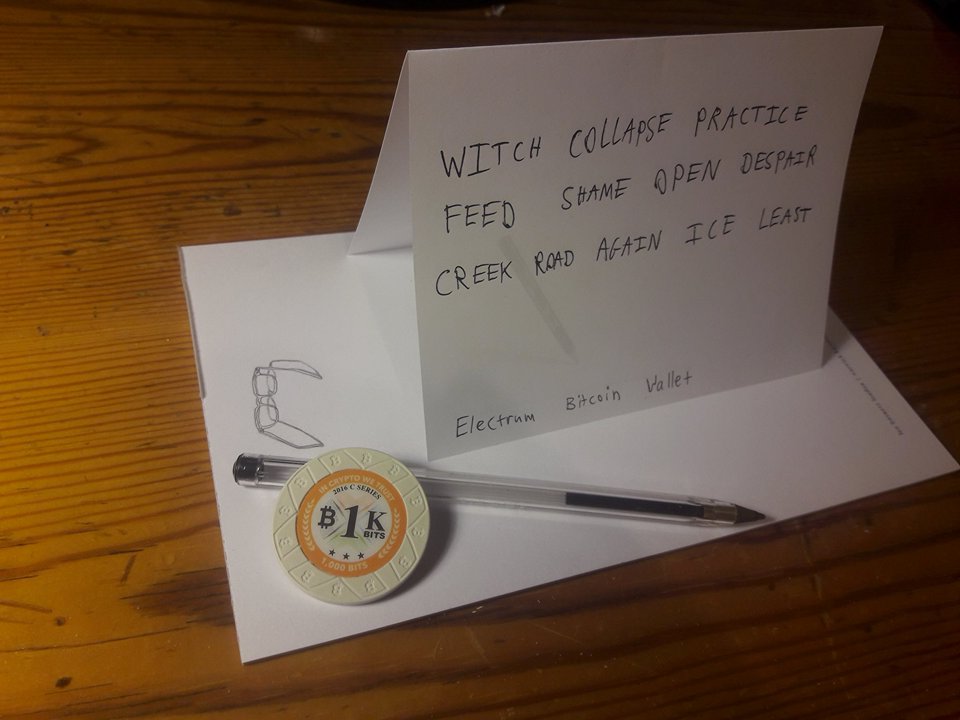 Example seed phrase on paper.
Protection from accidental loss
In the past many people have accidentally lost bitcoins because of failed backups, mistyped letters, forgotten hard drives, corrupted SSD devices, or numerous other slip ups.
The key to protecting yourself from data loss of any kind is to have redundant backups so that if one is lost or destroyed, you still have others you can use when you need them. All good wallet software asks their users to write down the seed recovery phrase of the wallet as a backup, so that if your primary wallet is lost or damaged, you can use the seed recovery phrase to restore access to your coins. If you have more than one backup location, they should be in places where various disasters won't affect both of your backups. For example, its much better to store two backups in a home safe and in a safe deposit box (as long as your seed is protected by a passphrase) than to store two backups in your bedroom and one in your garage.
Also important is regularly verifying that your backup still exists and is in good condition. This can be as simple as ensuring your backups are still where you put them a couple times a year.
The best practices for backing up a seed is to store the seed using pencil and paper or metal seed phrase backup and storing in multiple secure locations. See Seed_phrase#Storing_Seed_Phrases_for_the_Long_Term for details.
Verification and privacy
Storing a seed phrase only stores private keys, but it cannot tell you if or how many bitcoins you have actually received. For that you need wallet software.
If you received cash banknotes or gold coins as payment, you wouldn't accept them without inspecting them and verifying that they are genuine. The same is true with bitcoin. Wallet software can automatically verify that a payment has been made and when that payment has been completed (by being mined into a number of blocks). The most secure kind of wallet is one which independently verifies all the rules of bitcoin, known as a full node. When receiving large volumes, it is essential to use wallet software that connects to a full node you run yourself. If bitcoin is digital gold, then a full node is your own personal digital goldsmith who checks that received bitcoin payments are actually real. Lightweight wallets have a number of security downsides because they don't check all of bitcoin's rules, and so should only be used for receiving smaller amounts or when you trust the sender. See the article about full nodes.
Your wallet software will also need to learn the history and balance of its wallet. For a lightweight wallet this usually involves querying a third-party server which leads to a privacy problem as that server can spy on you by seeing your entire balance, all your transactions and usually linking it with your IP address. Using a full node avoids this problem because the software connects directly to the bitcoin p2p network and downloads the entire blockchain, so any adversary will find it much harder to obtain information. See also: Anonymity
So for verification and privacy, a good storage solution should be backed by a full node under your own control for use when receiving payments. The full node wallet on an online computer can be a watch-only wallet. This means that it can detect transaction involving addresses belonging to the user and can display transaction information about them, but still does not have the ability to actually spend the bitcoins.
Protection from theft
Possession of bitcoins comes from your ability to keep the private keys under your exclusive control. In bitcoin, keys are money. Any malware or hackers who learn what your private keys are can create a valid bitcoin transaction sending your coins to themselves, stealing your bitcoins. The average person's computer is usually vulnerable to malware, so that must be taken into account when deciding on storage solutions.
Anybody else who discovers a wallet's seed phrase can steal all the bitcoins if the seed isn't also protected by a secret passphrase. Even when using a passphrase, a seed should be kept safe and secret like jewels or cash. For example, no part of a seed should ever be typed into any website, and no one should store a seed on an internet-connected computer unless they are an advanced user who has researched what they're doing.
Seed phrases can store any amount of bitcoins. It doesn't seem secure to possibly have enough money to purchase the entire building just sitting on a sheet of paper without any protection. For this reason many wallets make it possible to encrypt a seed phrase with a passphrase. See Seed phrase#Two-Factor_Seed_Phrases
Easy access
Some users may not need to actually move their bitcoins very often, especially if they own bitcoin as an investment. Other users will want to be able to quickly and easily move their coins. A solution for storing bitcoins should take into account how convenient it is to spend from depending on the user's needs.
Summary
In summary: bitcoin wallets should be backed up by writing down their seed phrase, this phrase must be kept safe and secret, and when sending or receiving transactions the wallet software should obtain information about the bitcoin network from your own full node.
Tech Savvy, Enthusiast, Graphic Designer (Aspiring WEBDEV), Samsung/Pixel Lover, Occasional Blogger – Business -Family Man… Can help on Tech-related issue because is a passion to me